36th Annual Midwest Symposium for Leadership in Behavior Disorders
February 22, 23, 24, 2018
Sheraton Kansas CIty Hotel at Crown Center
Kansas City, Missouri
Thank you to everyone who came to the 36th year of the Midwest Symposium for Leadership in Behavior Disorders and made it a huge success! We covered cutting-edge issues of interest to professionals working with students with emotional/behavioral disorders and autism spectrum disorder. Our comprehensive, three-day program started with workshops on Thursday followed by keynote, breakouts, posters, exhibits and more. 
Please look through all of the presentations and download slides, materials, and resources!
2018 Keynote Presentation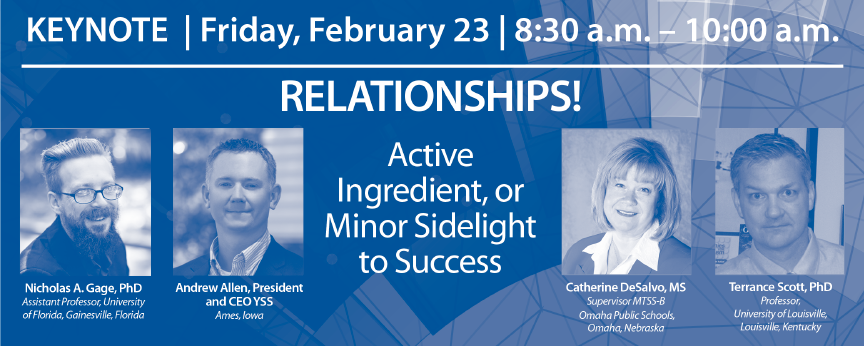 How do we describe and measure the impact of relationships - what is the evidence?
What has been the importance of relationships in each of our own lives?
What has been the importance of "relationships" with the children, youth, and families we serve?
Do our interventions to change behavior rely on relationships? 
The MSLBD Keynote will provide four short, intense, "TED Talk-like" responses to these and other questions about the role of relationships in effectively serving students with behavioral needs. Each Speaker will examine these questions from their own personal as well as professional perspective. 
Download the sides from 2018 Keynote
Keynote Strand
Select the title of the session to download handouts shared in the one-hour breakout sessions by the keynote presenters. 
Measuring and Understanding Teacher and Student Relationships: What We Know and Don't Know

Nicholas A. Gage, PhD, Assistant Professor, University of Florida, Gainesville, FL

#MeToo: The Power of Sharing Our Personal Stories

Andrew Allen, President and CEO YSS, Ames, IA

Catherine DeSalvo, MS, Supervisor MTSS-B, Omaha Public Schools, Omaha, NE

Terrance Scott, PhD, Professor and Distinguished University Scholar, Director, Center for Instructional and Behavioral Research in Schools, University of Louisville, Louisville, KY
---
Thursday, February 22 | Presymposium Workshops
Creating an Optimal Classroom Environment: Simple Strategies to Improve Behavior and Learning

Classroom and Behavior Management 2.0: Taking Basic Principles to the Next Level

School-Wide Frameworks and Interventions to Improve Student Behavior and Engagement

Self-Regulated Strategy Development: An Evidence-based Practice for Improving Reading and Writing Outcomes for Students with EBD

Relationships: The Key to all Students Success
BCBAs, PBIS, and IEPs: An Alphabet Soup to Support Student Outcomes

Forget "Reality TV!" "Reality Teaching" is What's Up for Culturally Responsive Behavior Management

Improving Motivation and Decreasing Disruptive Behaviors in Individuals with Autism Spectrum Disorder

Advanced Topics in Classroom Management: Going Beyond the Basics

WS 9 - Ashley MacSuga-Gage & Nicholas Gage

Advanced Topics in Classroom Management: Going Beyond the Basics

Handouts will be shared through an electronic binder. The presenters will email workshop participants a link to access documents prior to the session.
---
Friday, February 23 | Handouts from Breakout Sessions
Refresh your browser to see the most current additions to this list.
Master Teacher Strand - Stacy Hirt, Rachel Jones, Reesha M. Adamson

Interconnected Systems: Two Perspectives of Bridging School Mental Health and Educational Programming

Master Teacher Strand - Felicity Balluch & Megan Rees

Tier 2 and Tier 3 Interventions: Practical Approaches for Every Day Educators

Whose Future Is It Anyway? Considering the Student-Directed IEP Process

Master Teacher Strand - Barb Rieken & Malinda Forsberg

"Creating a Tier 3 Program: You Don't Have to Start From Scratch"

Designing Token Economies and Point Systems: Research and Guidelines for Implementation

Strategies for Educators to Address Symptoms of Trauma Among Students with Behavioral Needs in School

Middle Schools That Work: Work Experience Programs for Students with EBD

Sensory or Behavior? Teasing Out Behavioral Functions

Self-Monitoring is Not Just for Kids! Implementing Behavioral Interventions with Fidelity

The Growing Concerns Regarding the Use of Police Officers in Schools
---
Saturday, February 24 | Two Hour Sessions
A Behavioral Systems Approach to Ethics Training and Supervision

Endrew F. v. Douglas City School District (2017), The U.S Supreme Court Rules on Special Education: What Teachers Need to Know and Why

Trauma Informed Care: Developing Student and Staff Resiliency Through Education and Mindfulness

Designing and Implementing Video-Based Instruction for Students with Autism

Sat 4 - Stephen Crutchfield

Designing and Implementing Video-Based Instruction for Students with Autism

Handouts will be shared in the session.