Felicity Post, Ed.D.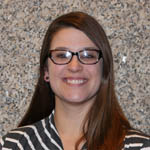 Felicity Post is a special education teacher in the Manhattan-Ogden School District in Manhattan, Kansas. She works in a resource room, where she has the privilege of working with students with a range of disabilities.
Felicity has been working in the resource setting for more than 11 years. She has worked with hundreds of students with various disabilities including learning disabilities, autism, and behavioral disorders. She is currently a member of her school's behavior team and works to provide behavioral supports for students in order to enable their success in the general education setting. She also assists teachers in their approaches to teaching hard to reach students and helps to build their intervention toolboxes. Felicity recently obtained her reading specialist endorsement and is currently pursuing her Ed.D. in special education from Kansas State University, with a focus on behaviors and literacy.
Felicity has presented at multiple conferences aimed at providing resources and insight for educators. Her presentations are known for being full of tools that are user-friendly and easy to implement into any classroom. Her presentations empower listeners and help them to discover new strategies for a manageable classroom.