Reesha M. Adamson, Ph.D.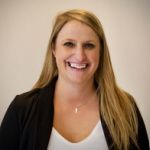 Reesha Adamson is an associate professor at Missouri State University in Springfield, MO. Reesha is an academic advisor for special education graduate students within the teacher preparation program and teaches both undergraduate and graduate classes. Previously Reesha worked as a special education teacher for a K-5 classroom for students with emotional and behavioral concerns, as an educational provider within a juvenile justice center, and as a district-wide behavior specialist. She has also worked as the project coordinator in Missouri for the Center for Adolescent Research in Schools (CARS), an IES funded, national randomized control trial examining the efficacy of a multi-prong intervention within high schools on lessening risks associated with challenging behavior, both externalizing and internalizing, among youth with disabilities.
Reesha specializes in working with school districts, preservice teachers, and current practitioners to implement evidence-based practices for students with and at-risk for emotional and behavioral disorders. She is familiar with all educational levels of instruction and across a variety of educational settings. She has presented numerous times at the local, state, national, and international levels and some of her work can be found published within leading journals within the field of special education.