2021 Awards and Stipends
As a result of the need to ensure the safety of everyone involved, and the unknown situation related to the COVID-19 pandemic the MSLBD Board of Directors made the difficult decision to postpone our annual conferences during the 2020-2021 academic year. The 2021 awards ceremony and the 39th Annual Midwest Symposium for Leadership in Behavior Disorders (MSLBD) suspended several of our awards realizing we would not be meeting in person to recognize these individuals at our February 2021 Symposium. The Board did however feel it was important to encourage future leaders in our field by offering both a doctoral and master's level stipend. We look forward to celebrating the accomplishment of these individuals in-person at a future event. Review award criteria here. 
---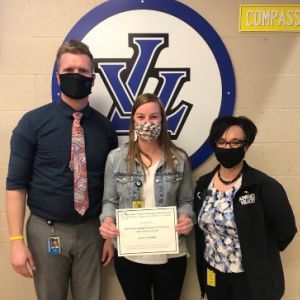 2020-2021 Outstanding Educator of Students with Autism Award
The Midwest Symposium presents this award to an individual who has exhibited outstanding achievement and excellence in classroom service to students diagnosed with autism spectrum disorder (ASD).
Jessica Schmidt, Autism Teacher, David Brewer Elementary, USD 453, Leavenworth, Kansas
"In recognition of her dedication to achieve the best outcomes for her students and for her advocacy on behalf of individuals with autism and their families."
---
Doctoral & Master's Stipend Awards 
Provided to students pursuing, or applying to pursue, a Doctoral or Master's degree in special education with a program emphasis on behavior disorders or a closely related field.
Doctoral Stipend, Nikita McCree, University of Missouri - Columbia
Master's Stipend, Frankie Kietzman, Pittsburg State University, Kansas
Doctoral Degree Stipend: Nikita McCree, University of Missouri-Columbia

Nikita McCree

My name is Nikita Mc Cree and I am pursuing my doctoral degree in Special Education with an emphasis in Behavior Disorders at the University of Missouri- Columbia. My passion and interest for serving children with emotional and behavioral disorders (EBD) began while I worked as a Guidance Counselor in several elementary schools on the island of Trinidad and Tobago. My current projects include a meta-analysis examining the effects of academic interventions on students of color who are diagnosed with EBD. I am also examining how working memory training can affect the behavioral and academic outcomes for students with EBD and lastly, I will be examining the cultural preparedness of pre-service teachers to teach culturally diverse students in the classroom.

Master's Degree Stipend: Frankie Kietzman, Pittsburg State University, Kansas

Frankie Kietzman

Having grown up in a family with autism, I started my career in behavioral modifications and supports from an early age. I have continued to gravitate toward supporting students with more significant social and behavioral needs. I feel very strongly about working with school and community settings to develop equitable opportunities for this population. Helping improve outcomes for these students and adults have become my career and life-long passion.
---
Get Involved
The Midwest Symposium for Leadership in Behavior Disorders recognizes individuals for the following awards. Review the criteria and nomination forms for these awards, here.