2018 Awards and Stipends
The 2018 awards ceremony of the Midwest Symposium for Leadership in Behavior Disorders (MSLBD) recognized current and future leaders in our field. We welcomed four new members to the MSLBD Master Teacher group.
In November 2017, it is with great sadness that we announce the unexpected loss of Dr. Richard Simpson, a founding member and continuous supporter of the activities of MSLBD. Many friends of MSLBD and Dr. Simpson were in attendance for the awards ceremony and the tribute that was hosted following the awards ceremony. 
---
The Outstanding Leadership Award
The Midwest Symposium presents this award to an individual who has exhibited outstanding service and leadership to the field of behavior disorders on a national level.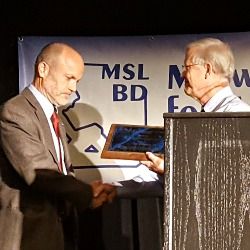 Antonis Katsiyannis, Ed.D., Alumni Distinguished Professor, Clemson University, South Carolina

"In recognition of his outstanding commitment to improving educational opportunities for teachers of students with behavioral disorders and other disabilities through his dedicated and exemplary leadership to the field."
---
Outstanding Educator Award
The Midwest Symposium presents this award to an individual who has exhibited outstanding achievement and excellence in classroom service to students with behavioral needs.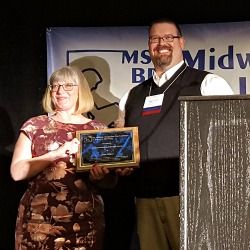 Janet Burgess, Northgate Middle School, North Kansas City School District

"In recognition of her passion and willingness to give of her time to collaborate with her peers for the best outcomes for students and to be a determined advocate on behalf of children with special needs."
---
Educational Program Award
The Building Bridges: Seeds for Development Award is a stipend for classroom or a program to support a variety of activities to improve education for students with emotional/behavioral disorders and autism spectrum disorders.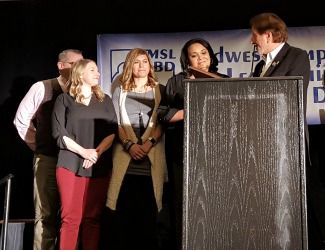 Child and Family Support Process, Columbia Public Schools, Columbia, Missouri
Raina Martin, Rebecca Townlian, Claire Slama, Courtney Blackwell (Not pictured), Vincent Thompson
"In recognition of outstanding educational endeavors that support students with emotional and behavior disorders and their families in public schools."
---
Doctoral Stipend Award 
Provided to students pursuing, or applying to pursue, a Doctoral degree in special education with a program emphasis in behavior disorders or a closely related field.
Leslie Bross, University of Kansas
Jennifer Counts, Clemson University
Sara Sanders, Kansas State University
Sara Sanders

Sara Sanders, Doctoral Stipend recipient and Dr. Mickey Losinski, Advisor

Jennifer Counts

Dr. Joseph Ryan accepting Doctoral Stipend Award for recipient Jennifer Counts

Leslie Bross

Leslie Bross, Doctoral Stipend recipient with Dr. Howard Wills, Awards Committee, and Dr. Jason Travers, Advisor
---
MSLBD Master Teacher Group
The Midwest Symposium for Leadership in Behavior Disorders Master Teachers are a group of experienced professional educators committed to bridging the "research to practice gap" by promoting the use of evidence-based practices in their work directly with students who exhibited behavioral challenges in public schools. Founded in 2006, the master teacher group provides a strand of practical, "what to do on Monday" presentations at the annual MSLBD symposium every February and contributes tips and tools on this website to help teachers in their daily practice. 
Janet Burgess, North Kansas City School District

Janice Motta, Lee's Summit R-7 School District

Sallye Vanderplas-Lee, Millard Pubic School District

Joshua Wikler, Kansas City Kansas Public Schools