2017 Awards and Stipends
The 2017 awards ceremony of the Midwest Symposium for Leadership in Behavior Disorders (MSLBD) recognized current and future leaders in our field. MSLBD took the time to say "thank you" to Dr. Deborah Griswold and Dr. Michael Couvillon for their service the past three years to the organization as president and treasurer of the organization. We also welcomed two new members to the MSLBD Master Teacher group. 
---
The Outstanding Leadership Award
The Midwest Symposium presents this award to an individual who has exhibited outstanding service and leadership to the field of behavior disorders on a national level.
M. Renee Bradley, Ph.D., Deputy Director Research to Practice/Program Specialist, U.S. Department of Education, Office of Special Education Programs, Washington D.C.

"In recognition of her influential leadership in policy development and her decisive and exemplary service in advocating for and advancing the educational rights of students with behavioral disorders."
Dr. Renee Bradley & Dr. Mitchell Yell

2017 Outstanding Leadership Award Recipient
---
Doctoral Stipend Award 
Provided to students pursuing, or applying to pursue, a Doctoral degree in special education with a program emphasis in behavior disorders or a closely related field.
Eric A. Common with his advisor Dr. Kathleen Lynne Lane

University of Kansas, Lawrence, Kansas
Doctoral Stipend Recipient
---
MSLBD Master Teacher Group
The Midwest Symposium for Leadership in Behavior Disorders Master Teachers are a group of experienced professional educators committed to bridging the "research to practice gap" by promoting the use of evidence-based practices in their work directly with students who exhibited behavioral challenges in public schools. Founded in 2006, the master teacher group provides a strand of practical, "what to do on Monday" presentations at the annual MSLBD symposium every February and contributes tips and tools on this website to help teachers in their daily practice. 
Melinda Forsberg & Carrie Fairbairn

Melinda is from Lawrence Public Schools USD 497, Lawrence Kansas
Carrie is from Millard Public Schools, Omaha, Nebraska
---
Outstanding Building Leadership Award
Awarded at the October 2017 Leader' Conference
The Midwest Symposium presents this award to an individual who has exhibited outstanding achievement and excellence as a building or program administrator serving students with behavioral needs.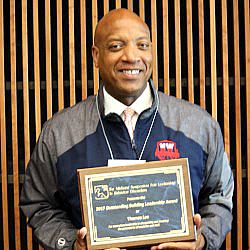 Thomas Lee, Omaha Northwest High Magnet School, Omaha, Nebraska
"For exemplary leadership in recognizing and enabling the potential in all students and staff."