MSLBD Exhibitor Policy
The MSLBD Mission is to "foster professional and family leadership that improves the lives of children and youth with emotional/behavioral disorders or related behavioral challenges". Accordingly, MSLBD promotes and engages in professional development, champions excellence in leadership in EBD through intellectual stimulation, and facilitates outreach, advocacy and research, and dissemination. These MSLBD functions support the contributions of commercial vendors. MSLBD invites vendors to its conferences and related functions. Potential vendors must apply to participate in MSLBD activities, agree to abide by stated rules and protocol consistent with our mission, and offer products, services, and information considered to be professionally appropriate and/or research based. MSLBD considers "professionally appropriate" to refer to products, services, and information consistent with our basic standards of education and professional principles and values; and information that prepares and informs members of the profession and contributes to the professional and scientifically-supported understanding and support of individuals with emotional/behavioral disorders and other disabilities. 
MSLBD evaluates vendor proposals for various MSLBD functions and activities, on a case-by-case basis, based on standards described above.  Thus proposals must describe professional information and services directly linked to participant's professional work, responsibilities and career needs. Members of the MSLBD Vendor Committee make first-order assessment and recommendations on vendor proposals.  The MSLBD Board of Directors considers Vendor Committee recommendations and makes final acceptance decisions.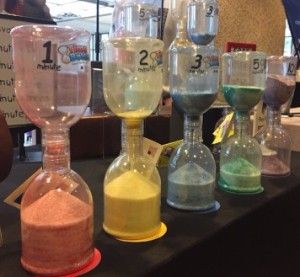 Time in A Bottle, www.watchtimepass.com
The Midwest Symposium for Leadership in Behavior Disorders is once again inviting a select group of publishers, service providers, and others to exhibit at its annual conference.
This annual mid-winter conference has drawn a large attendance over the years, with attendance averaging 850. Participants are primarily special education teachers working with students who have emotional/ behavioral disorders and autism spectrum disorders, school social workers, school psychologists, teacher trainers, state department personnel, and other professionals. Mainly attracting attendees from a four-state region (Kansas, Missouri, Nebraska, and Iowa), the Symposium is increasingly drawing a broader national audience, with more than 25 states represented each year. 
The conference runs over three days, starting on a Thursday morning and ending at 11:30 a.m. on Saturday. Our low exhibitor fee starting at $350 for the two days covers a six-foot draped table, side chairs, company recognition in the online program materials, security overnight from Thursday to Friday morning, and one identification badge.
Exhibits will be set up in a high-traffic area, and guarantee outstanding visibility. The following functions will take place in the exhibit area to draw visitors: conference registration, complimentary coffee Thursday and Friday, and a cash bar and hors-d'oeuvres Friday afternoon. We provide security for the exhibit area Thursday night from 5:00 p.m. until 8:00 a.m. on Friday morning, so you do not need to dismantle your exhibit. If you choose to exhibit on Saturday, you may do so; however, there will be no security provided Friday night. 
Review the "Fact Sheet" and register online to guarantee a display table at the event. Prices will increase after the conference's early registration deadline, January 27, 2023. Space is limited to 16 exhibitors.