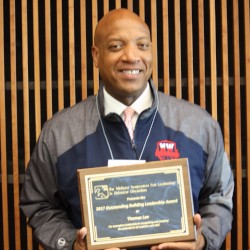 Thomas Lee, the principal at Omaha Northwest High Magnet School in Nebraska, has been recognized as the 2017 MSLBD Outstanding Leadership Award winner for his outstanding effort on behalf of students with behavioral challenges.
"For exemplary leadership in recognizing and enabling the potential in all students and staff."
Mr. Lee was honored at the 2017 Conference on Behavior Issues for School Leaders, October 12, 2017.