36th Annual Midwest Symposium for Leadership in Behavior Disorders
February 22, 23, 24, 2018
Sheraton Kansas CIty Hotel at Crown Center
Kansas City, Missouri
For the 36th year, the Midwest Symposium for Leadership in Behavior Disorders will address cutting-edge issues of interest to professionals working with students with emotional/behavioral disorders and autism spectrum disorder. Our comprehensive, three-day program starts with workshops on Thursday followed by keynote, breakouts, posters, exhibits and more. 
Easy online registration for groups and individuals.
EARLY REGISTRATION DISCOUNT EXTENDED THROUGH JANUARY 26.

Overview schedule, presentation descriptions, printable registration form.

---
Thursday, February 22 | Presymposium Workshops
Extra fee applies. Early registration is encouraged as seating is limited. 
Morning Sessions, 9:00 AM - 12:00 PM, Choose one-morning session to attend. 
1. Creating an Optimal Classroom Environment: Simple Strategies to Improve Behavior and Learning

Teachers often struggle to manage the behavior of diverse learners with varying emotional and behavioral needs. With larger classrooms and fewer resources, it is increasingly difficult to create an environment that meets the needs of all students. Thus, it is even more important to use proactive and preventive strategies to create an optimal learning environment. In this session, we will describe several assessments that teachers can use to evaluate their classrooms for the presence of important environmental features to support behavior and learning. We will then describe a number of specific strategies to strengthen the classroom structure. In addition, we will discuss instructional approaches that can be immediately incorporated into instruction to enhance student engagement and motivation.

Lee Kern, PhD, Professor and Director, Center for Promoting Research to Practice, College of Education, Lehigh University, Bethlehem, Pennsylvania

2. Classroom and Behavior Management 2.0: Taking Basic Principles to the Next Level

Students with or at risk for EBD present extraordinary academic and behavioral challenges. Decades of research show that a few simple behavioral principles guide our best efforts to address these challenges—but these principles alone (e.g., positive and negative reinforcement, extinction, differential reinforcement) have not solved our most persistent challenges. In this session, we take our understanding of these basic principles to new levels by focusing on key features of our most promising interventions. Namely, our best interventions are antecedent, in that they prevent behavior problems from occurring and set students up for success, and they are instructional, in that they involve actively teaching and reinforcing the skills and behaviors students need to succeed. We review examples of such strategies (e.g., choice, behavioral momentum, precision requests), and walk through planning templates that help practitioners design, implement, and monitor the impact of these interventions.

Timothy J. Landrum, PhD, Professor and Interim Associate Dean for Research and Innovation, University of Louisville, Louisville, Kentucky

Catherine P. Bradshaw, PhD & Kristine E. Larson, EdD

3. School-Wide Frameworks and Interventions to Improve Student Behavior and Engagement

The presenters will provide an overview of three preventive interventions aimed at improving student behavior and engagement. Specifically, presenters will discuss the continuum of evidence-based practices used across multiple tiers within the Maryland Safe and Supportive Schools (MDS3) project in both high schools and middle schools. The presentation will also discuss the implementation of an integrated Positive Behavior Interventions and Supports/Restorative Practices (RP/PBIS) model disseminated within the MDS3 Middle School Project. Lastly, presenters will provide an overview of Double Check, a school-wide framework to increase staff cultural proficiency and student engagement, with the goal of reducing disproportionality.

Catherine P. Bradshaw, PhD, Associate Dean for Research and Faculty Development, Curry School of Education, University of Virginia, Charlottesville, VA and Kristine E. Larson, EdD, Postdoctoral Fellow and School Coach, Johns Hopkins Bloomberg School of Public Health, Baltimore, Maryland

Robin Parks Ennis, PhD, BCBA-D & Sara Sanders, MA

4. Self-Regulated Strategy Development: An Evidence-based Practice for Improving Reading and Writing Outcomes for Students with EBD

Self-regulated strategy development (SRSD) is an evidence-based practice for use with struggling readers and writers with emotional and behavioral disorders (EBD) as well as other learners. During this session, participants will learn the stages of SRSD for writing instruction as well as SRSD strategies for teaching narrative, expository, and argument writing. This session will involve lecture, videos, and modeling to illustrate the SRSD process. Free online resources will be shared with participants.

Robin Parks Ennis, PhD, BCBA-D, Assistant Professor, University at Birmingham, Birmingham, Alabama and Sara Sanders, MA, Doctoral Student, Kansas State University, Manhattan, Kansas

5. Relationships: The Key to all Students Success

In this session, we will refocus on how to create positive student-teacher relationships. As Hattie's work shows, teacher-student relationships can have a positive effect on a students growth and achievement. We will focus on the philosophy of restorative practices and how using effective language, impromptu conversations and circles can help create the balance of managing a classroom while building relationships. Dominique will share his experience of working at Health Sciences High and Middle College in San Diego, and how they have regained the power of using relationships with students. Simply stated, students do not learn from adults they don't care about. The focus of restorative practices is to drift away from punitive practices and the refocus of using conversation and understanding to help restore situations.

Dominique Smith, MSW, Director of Student Support and Vice Principal, Health Sciences High & Middle College, San Diego, California
Afternoon Sessions, 1:30 PM - 4:30 PM, Choose one-afternoon session to attend.
Ilene S. Schwartz, PhD, BCBA-D

6. BCBAs, PBIS, and IEPs: An Alphabet Soup to Support Student Outcomes

Supporting students with disabilities and their families takes a village. The village includes the student, their peers, family members, friends, and a variety of professionals from different disciplines. Sometimes these professionals let their disciplinary differences create barriers to providing seamless services to students and families. The purpose of this presentation is to discuss strategies that BCBAs can employ to work collaboratively with other professionals to enhance outcomes for students with disabilities.

Ilene S. Schwartz, PhD, BCBA-D, Director, Haring Center for Inclusive Education, Affiliate Center on Human Development and Disability, University of Washington, Seattle, Washington

Brenda L. Townsend Walker, PhD, JD

7. Forget "Reality TV!" "Reality Teaching" is What's Up for Culturally Responsive Behavior Management

This interactive and engaging workshop focuses on culturally responsive and respectful behavior management teaching strategies. Dr. Townsend Walker provides insights from her work and research with African American learners. She demonstrates both proactive and intervening strategies relative to the behaviors that often result in those students disproportionately receiving office referrals and in- and out-of-school suspensions. Strategies are also included to forge authentic partnerships with families in urban and low-income communities. Lastly, participants will customize culturally responsive action plans tailored for their own unique settings.

Brenda L. Townsend Walker, PhD, JD, Professor, University of South Florida, Tampa, Florida

8. Improving Motivation and Decreasing Disruptive Behaviors in Individuals with Autism Spectrum Disorder

This session provides an overview of Pivotal Response Treatment (PRT) - PRT is a naturalistic intervention model derived from ABA approaches. Rather than target individual behaviors, PRT targets pivotal areas of a child's development, such as motivation, responsivity to multiple cues, self-management, and social initiations. By targeting these critical areas, PRT results in widespread, collateral improvements in other social, communicative, and behavioral areas that are not specifically targeted. This presentation will review research-supported motivational strategies that have been shown to significantly increase child engagement in learning opportunities, thus increasing the speed of new skill acquisition and decreasing disruptive behavior. Strategies for motivating children to self-initiate language will also be discussed, as research shows that initiations are critical for more positive long-term outcomes in children with autism. Finally, as many children with ASD show very little interest in academic assignments and exhibit disruptive behavior when assignments are presented, this session will review how these motivational variables can be incorporated into academic tasks to improve performance and interest.

Lynn Kern Koegel, PhD, Clinical Professor, Stanford Medical School, Department of Psychiatry, Santa Barbara, California

Ashley MacSuga-Gage, PhD & Nicholas Gage, PhD

9. Advanced Topics in Classroom Management: Going Beyond the Basics

Efficient and effective classroom management is a critical component of effective instruction. The goal of this workshop is to provide information and resources for a number of evidence-based classroom management practices and programs that can easily be implemented in both general and special education classrooms. We will focus on practices that go beyond instructional management (e.g., increased praise) and, instead focus on evidence-based behavior management practices that can be used class-wide (e.g., choice-making, group contingencies) and how to match those strategies to the needs of your students based on an eco-behavioral assessment. Participants are encouraged to bring classroom behavior data to develop action plans.

Ashley MacSuga-Gage, PhD, Clinical Assistant Professor of Special Education and Nicholas Gage, PhD, Assistant Professor of Special Education, University of Florida, Gainesville, Florida
---
Friday, February 23 | Keynote, Breakout Sessions, Poster Session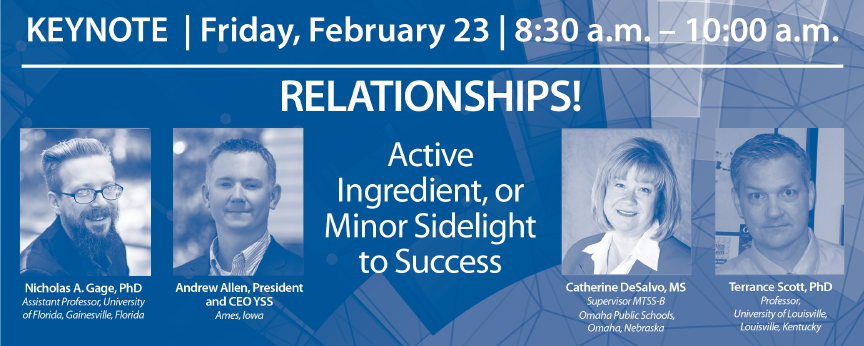 How do we describe and measure the impact of relationships - what is the evidence?
What has been the importance of relationships in each of our own lives?
What has been the importance of "relationships" with the children, youth, and families we serve?
Do our interventions to change behavior rely on relationships? 
The MSLBD Keynote will provide four short, intense, "TED Talk-like" responses to these and other questions about the role of relationships in effectively serving students with behavioral needs. Each Speaker will examine these questions from their own personal as well as professional perspective. 
Breakout Sessions & Poster Session
Four concurrent sets of Breakouts will be offered through the day. Breakout sessions are offered as general seating, no preregistration is required. Concurrent Session Times 10:20 - 11:20 a.m., 11:30 a.m. - 12:30 p.m, 2:00 - 3:00 p.m., 3:15 - 4:15 p.m., lunch on your own,

Seven breakout sessions will be designated for BCBA CEU credit.

Poster Sessions

Join us for the Symposium Poster Session, 4:15 - 6:00 PM in the Atlanta Ballroom. Cash Bar and complimentary appetizers will be available as you visit with the presenters.
Symposium Party
Don't miss the Symposium Party & Lip Sync Battle. Friday night, 8:00 p.m. - 11:00 p.m. in the Atlanta Ballroom. Win cash and prizes. Dancing, cocktails, a free drink ticket and then cash bar.
---
Saturday, February 24 | Two Hour Sessions
Choose one session to attend, 9:00 - 11:30 AM
Matthew T. Brodhead, PhD, BCBA-D
Offered for BCBA Ethics Credit (3 Units)

A Behavioral Systems Approach to Ethics Training and Supervision

Professional and ethical behaviors are critical for high-quality care and consumer protection. By using behavioral systems, behavior analysts may increase the probability of employees engaging in professional and ethical behaviors because systems may describe "what to do" instead of "what not to do" when faced with a professional or ethical issue. This presentation will discuss strategies for using behavioral systems for teaching and maintaining professional and ethical behavior in an organization, building and maintaining relationships in interdisciplinary settings, developing cultural awareness of employees, and defining the scope of competency and boundaries of practice.

Matthew T. Brodhead, PhD, BCBA-D, Assistant Professor, Michigan State University, East Lansing, Michigan

Mitchell L. Yell, PhD, Carl R. Smith, PhD, & Antonis Katsiyannis, EdD

Endrew F. v. Douglas City School District (2017), The U.S Supreme Court Rules on Special Education: What Teachers Need to Know and Why

In the past 1 ½ years, there are have two major developments that will have a profound influence on special education teachers and administrators. The first development occurred in August 2016 when the U.S. Office of Special Education and Rehabilitative Services published guidance on developing IEPs for students with behavioral problems. We will review this important document that addressed the necessity of developing educationally appropriate and legally sound IEPs for these students. The second development occurred on March 22, 2017, when the U.S. Supreme Court announced its decision in Endrew F. v. Douglas County School District. This case, coming 35 years after the Supreme Court's first special education decision in Board of Education v. Rowley (1982), addressed the free appropriate public education (FAPE) requirement of the IDEA. Specifically, the High Court answered the question of how much educational benefit public schools are required to provide to students with disabilities in order to confer a FAPE. In this part of the presentation, we will (a) review these Supreme Court decisions, (b) discuss five major takeaways from the Endrew decision, and (c) offer recommendations to special education teachers and administrators on developing special education programs that meet the new Endrew standard. We will also be presenting information from developments in school discipline and behavioral disorders/mental health directions in relation to the Endrew decision.

Mitchell L. Yell, PhD, Professor, University of South Carolina, Columbia, South Carolina; Carl R. Smith, PhD, Professor Emeritus, Iowa State University, Ames, IA; Antonis Katsiyannis, EdD, Professor, Clemson University, Clemson, SC

Trauma Informed Care: Developing Student and Staff Resiliency Through Education and Mindfulness

Developing an understanding of the growing body of research in the area of Trauma Informed Care is essential in today's educational setting. Through this presentation, participants will gain an understanding of what Trauma Informed Care is and the importance of applying this knowledge to the educational setting. This presentation provides a review of available research in the area from leading experts taken from a variety of sources as well as look at the impact this information and it's application can have in the educational setting based on results at Summit Ridge Academy.

Andy Campbell, MSE, Principal, Summit Ridge Academy, Lee's Summit R-7 School District, Lee's Summit, Missouri

Designing and Implementing Video-Based Instruction for Students with Autism

This workshop will hone attendee's skills in developing video-based instruction for students with autism. Video Modeling, Video Priming, Video Prompting and various hybrids and extensions of these procedures have become increasingly popular with both researchers and practitioners. However, limited information is available regarding how to practically implement these procedures, what steps to take to increase the likelihood of their success, and how to calibrate and adjust these procedures to meet individual student needs. During this workshop attendees will be given guided practice in creating these instructional supports, and will leave with an understanding of the tech skills necessary to independently craft these materials for the students in their care.

Stephen Crutchfield, PhD, Assistant Professor, California Polytechnic State University, San Luis
Obispo, CA