Michael George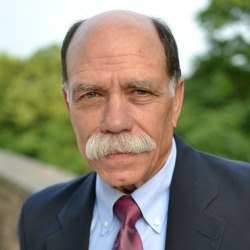 A Different Perspective, Some Effective Strategies, and a Few Useful Hints for Working with Students Having Behavior Problems
Michael George, Ed.D., Director Centennial School of Lehigh University, Bethlehem, Pennsylvania
This presentation focuses on children and youth experiencing emotional and behavioral problems in schools and how school leaders can help them and their families achieve success. The speaker will illustrate how the beliefs, values, and assumptions that define a school's culture guide the goals we establish for children, the curriculum and interventions we provide them, and the eventual outcomes we will help them achieve. Some common sense strategies will be shared for working with children and youth with emotional and behavioral problems in schools, along with some counter-intuitive but nonetheless effective strategies for facilitating learning and promoting school success. 
---
Biography
Dr. Michael George is the Director of the Centennial School of Lehigh University.  Centennial School has been acknowledged by the American Institutes for Research in Washington DC, designated as a School of Excellence by the National Association of Special Education Teachers, recognized by The National Disability Rights Network, and featured on ABCs Nightline for its work with challenging children and youth without the use of aversive interventions. Most recently, representatives from the U.S. Department of Education, Office of Civil Rights and from the U.S. Justice Department visited his school to observe best practices that might inform future legislation. Michael is also an adjunct professor with the College of Education at Lehigh University. He is the recipient of Lehigh's Tradition of Excellence Award as well as the Hillman Staff Award for outstanding professional contributions, the highest honor bestowed by the University. 
Earlier in his career, Michael was the administrator of the Lane School Programs in Eugene, Oregon, which was recognized by the U.S. Department of Education Office of Special Education Programs for its promising practices in working with youth classified with emotional disturbances. Michael has spent more 40 years working with students with behavioral problems that prevent them from participating in public schools.
Michael has presented papers at many national and international conferences. He was invited to the First White House Conference on Mental Health, chaired by Tipper Gore in June of 1999. In 2012, he testified before the U.S. Senate Subcommittee on Health, Education, Labor and Pensions on the topic of moving beyond seclusion and restraint by creating positive learning environments for all students.